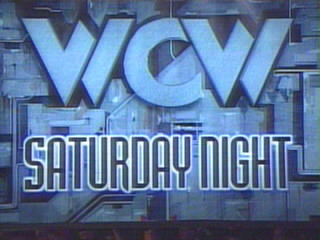 Feb 21, 1998
Bill Goldberg pinned Scott Putski with the Jackhammer in 0:02:24.
Rating: * 3/4
Goldberg goes to 27-0.
Ultimo Dragon pinned Prince Iaukea after a waistlock suplex in 0:09:32.
Rating: **
Rey Mysterio Jr. pinned Lenny Lane with the Springboard Hurracanrana in 0:03:17.
Rating: *** 1/4
Kaz Hayashi and Yuji Nagata defeated Disorderly Conduct (Tough Tom and Mean Mike) when Kaz pinned Tough Tom after a flying cross body press in 0:18:51.
Rating: ***
Kaz celebrated his victory, but manager Sonny Onoo entered the ring and slapped him then berated him in Japanese while Nagata looked on sternly.
Hugh Morrus pinned Norman Smiley with the No Laughing Matter in 0:06:09.
Rating: *** 3/4
This match came about because Smiley was Ernest Miller's tag partner last weekend. Smiley and Morrus are quite the clash in styles, size and attitudes but put on a good match before
Vandenberg's Army (Mortis and Wrath) defeated The Destruction Crew (Mike Enos and Wayne Bloom) when Wrath pinned Bloom with the Meltdown in 0:00:38.
Rating: *
Mortis and Wrath completely destroyed Enos and Bloom the moment they hit the ring - they got absolutely zero offense in.
Ernest Miller defeated The Barbarian by disqualification in 0:03:33.
Rating: 1/2*
[Meng interfered against Ernest Miller.]
Meng ran in and leveled Ernest Miller with the Kick Of Fear then locked on the Tongan Death Grip. Miller tried to fight free but without success as Meng kept the hold on until Miller passed out. Jimmy Hart then called off his charges, the damage done.
Steve McMichael and Dean Malenko defeated The Flock (Kidman and Reese) when Malenko defeated Kidman when Kidman passed out in the Texas Cloverleaf in 0:08:30.
Rating: **
WCW Saturday Night means no Flock in the front row. It made a big difference to have only Lodi in The Flock's corner and no Raven, Hammer, Riggs, or Sick Boy around to interfere. Reese's size made him no easy opponent, but eventually McMichael and Malenko were able to wear him down especially after Kidman started behaving erratically. Late in the match he ended up in the corner of the ring, twitching and scratching himself. Malenko dragged him out of the corner and locked on the Texas Cloverleaf for the win.