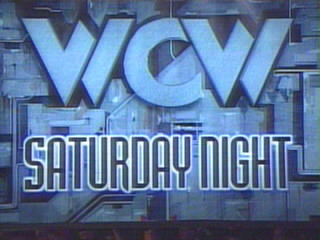 February 14, 1998
Kidman comes out for a match, with Lodi in tow. Kidman is scratching himself alot, as he has been since he joined The Flock. Lodi has his goofy signs as usual, one of which says "Flying High Again".
Kidman pinned Scott Putski with the Seven Year Itch in 0:07:15.
Rating: **
[Lodi interfered against Scott Putski.]
Kidman seems rather lethargic for most of the match and Putski dominates. But after about five minutes, Kidman suddenly seems to perk up and makes the comeback to win, with help from Lodi.
Bill Goldberg pinned Lash LeRoux with the Jackhammer in 0:04:20.
Rating: ***
Goldberg's streak goes to 26-0.
Vandenberg's Army (Mortis and Wrath) defeated The Armstrong Brothers (Scott Armstrong and Steve Armstrong)
when Mortis defeated Steve Armstrong by countout in 0:05:50.
Rating: ** 1/2
[James Vandenburg interfered against Scott Armstrong.]
Just a big squash. Steve was counted out because he tossed from the ring when he was the legal man and spent the entire 10 count rolling around on the floor in pain. Mortis and Wrath kept pummeling Scott while the referee made the countout. Vandenberg finally called off his team when neither Armstrong could stand.
Hugh Morrus pinned Craig Pittman with the No Laughing Matter in 0:10:35.
Rating: *** 3/4
The Hart Foundation (Jim Neidhart and Davey Boy Smith) defeated The Destruction Crew (Mike Enos and Wayne Bloom)
when Smith defeated Bloom by countout in 0:05:09.
Rating: -1/4*
[Buff Bagwell interfered against Jim Neidhart.]
Davey and Anvil dominated the match. When Davey when for the Running Powerslam, Bloom was able to slide down his back. However, he'd decieded he'd had enough and bailed on the match. As Davey stood frustrated in the ring watching The Destruction Crew leave and the referee make the 10 count, Buff Bagwell came out of the crowd behind then and ambushed Neidhart! The referee raised Davey's hand in victory, but then Davey heard the commotion and turned around to see Neidhart and Bagwell fighting. He went to help, but Scott Norton came thundering down to the ring. Vicious and Delicious fought with The Hart Foundation as the show went to a commercial.
Chris Adams defeated Glacier by disqualification in 0:07:01.
Rating: * 1/2
Glacier hit Adams with the Cryonic Kick, but Adams kicked. Frustrated, Glacier then hit the referee with the Cryonic Kick. When he woke up, he DQ'd Glacier.
Four Corners Match
Norman Smiley and Ernest Miller defeated Public Enemy (Rocco Rock and Johnny Grunge), The Windham Brothers (Barry Windham and Kendall Windham) and
The Faces of Fear (Meng and The Barbarian) when Miller pinned Grunge with the Feliner in 0:14:26.
Rating: **