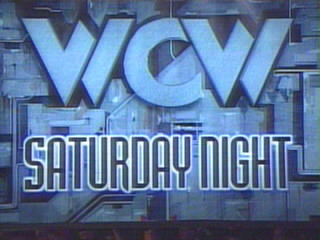 Febuary 7, 1998
Vicious and Delicious make their way out to start the show. They cut an nWo promo and Bagwell shows off his muscles.
Scott Norton pinned Hugh Morrus after a shoulderbreaker in 0:01:18.
Rating: * 1/4
After the match, Norton tells the camera that The Laughing Man was just another WCW victim.
A taped promo with James Vandenberg was shown in which he again threated doom.
Vandenberg's Army (Mortis and Wrath) defeated Disco Inferno and Magnum Tokyo when Wrath pinned Tokyo after a power bomb in 0:05:59.
Rating: ** 1/2
Disco and Tokyo took a severe beating during the match and it continued after the bell had rang. Vandenberg didn't call off Mortis and Wrath until they'd left the dancing wrestlers incapacitated in the ring.
Ernest Miller cut a promo before his match saying he was done with Glacier and moving forward with his fighting career. Tonight he'll demonstrate that Jerry Flynn's kickboxing is no match for his karate.
Ernest Miller pinned Jerry Flynn after a falling splash in 0:03:31.
Rating: * 1/2
The Cat got the win in short order as he promised. But as he headed back to the locker room after the match, Meng appeared and blocked his path. Meng showed off some martial arts skills of his own to keep Miller's attention, allowing The Barbarian to blindside him with the Kick Of Fear! Jimmy Hart directs traffic as the First Family put the boots to Ernest Miller as we go to a commercial.
Louie Spicolli pinned Dave Taylor after a small package in 0:08:34.
Rating: * 1/2
Super Calo pinned Lizmark Jr. after a tiger driver in 0:09:10.
Rating: *** 1/2
Konnan pinned Lenny Lane after a power bomb in 0:01:39.
Rating: **
[Main Event]
Public Enemy (Rocco Rock and Johnny Grunge) and La Parka defeated The Windham Brothers (Barry Windham and Kendall Windham) and Silver King
when Parka pinned B. Windham after a power bomb in 0:08:02.
Rating: ** 3/4
An unusual main event that sees the table-carrying TPE joined by the chair-wiedling luchadore to face the cowboy brothers and the cowboy luchadore. Match broke down into another brawl. The referee had trouble keeping order and didn't see Barry Windham get nailed in the head with a trash can lid, setting up an unlikely La Parka powerbomb for the win. Parka danced after the match to celebrate the victory, only to be attacked by the Windhams and choked out with a rope. That brought Public Enemy back to the ring to chase them off. The show ends with Public Enemy in the ring and the Windhams outside the ring yelling at each other.