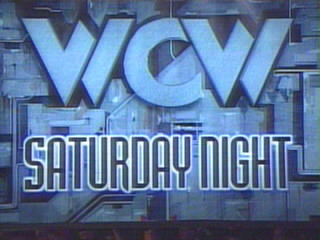 January 31, 1998
Davey Boy Smith pinned Rick Martel with the Running Powerslam in 0:07:35.
Rating: **
Ultimo Dragon made Silver King submit to a front facelock in 0:13:56.
Rating: **** 1/4
Pre-taped promo is shown with James Vandenberg. Vandenberg downplays Harlem Heat's recent defeat of Mortis and Wrath and promises he has plenty in store for the rest of WCW.
Mortis pinned Lenny Lane with the DOA in 0:11:47.
Rating: **** 1/4
Meng defeated Scott Putski by countout in 0:11:29.
Rating: -*
Meng pummeled Putski before tossing him the floor, from whence he did not return.
The Flock (Hammer, Kidman and Reese) defeated The Armstrong Brothers (Brad Armstrong, Scott Armstrong and Steve Armstrong)
when Reese pinned B. Armstrong with the Double Choke Slam in 0:05:43.
Rating: * 3/4
Dominating performance by the newest member of The Flock.
A pre-taped promo was shown with Public Enemy challenging the Windhams to a rematch.
Public Enemy (Rocco Rock and Johnny Grunge) defeated The Windham Brothers (Barry Windham and Kendall Windham)
when Rocco Rock pinned B. Windham after the the Drive By in 0:15:37.
Rating: *** 1/2
TPE get the win this week, but the rivalry between these two teams is not likely settled.
Chris Adams defeated Steven Regal by disqualification in 0:05:46.
Rating: **
For the second week in a row, a match between Adams and Regal fails to end in a pinfall or submission. This time, Regal felt Billy Silverman's count was too slow and put his hands on the referee, drawing the DQ.
Lex Luger and The Giant defeated Yuji Nagata and Kaz Hayashi when Luger made Kaz submit to the Torture Rack in 0:06:05.
Rating: *** 3/4
After the match, Sonny Onoo berated Kaz for submitting too easily. Meanwhile, Luger cut a promo against the nWo while The Giant stood behind him rubbing his hands together and looking menacing.