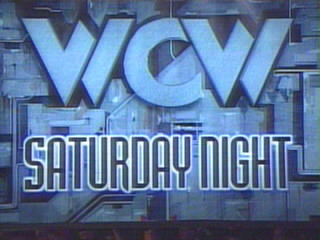 January 24, 1998
Bill Goldberg pinned Wayne Bloom with the Jackhammer in 0:04:24.
Rating: ** 1/2
After the match, Goldberg tells Disco Inferno that he's next.
La Parka and Psychosis defeated Damien and Ciclope when Parka pinned Damien after a spinning backbreaker in 0:14:54.
Rating: ***
Chris Adams defeated Steven Regal by countout in 0:15:04.
Rating: ** 1/2
Adams and Regal ended up brawling on the floor and only Adams beat the count to get back in the ring.
The Windham Brothers (Barry Windham and Kendall Windham) defeated Public Enemy (Rocco Rock and Johnny Grunge)
when Windham pinned Grunge with the Superplex in 0:10:27.
Rating: **
This was a rematch from last week's show. That match had ended in a double countout.
Rey Mysterio Jr. pinned El Dandy with the Springboard Hurracanrana in 0:08:38.
Rating: ****
The Hart Foundation (Jim Neidhart and Davey Boy Smith) defeated Disorderly Conduct (Tough Tom and Mean Mike) when Smith defeated Mean Mike via pinfall in 0:02:10.
Rating: -1/2*
Squash.
Konnan defeated Ultimo Dragon when Ultimo Dragon passed out in the Tequila Sunrise in 0:01:33.
Rating: **
This was supposed to be a match to settle the fued between Konnan and Ultimo Dragon that has been going on in recent weeks on this program. But Dragon came out to the match looking worse for wear. He seemed to try to explain the situation to referee Charles Robinson, but Robinson doesn't know Japanese. Konnan attacked Dragon to start the match and made quick work of him. Afterwards, Louie Spicolli came out with a big smile on his face and helped Konnan deliver a beatdown on Ultimo Dragon. Did Spicolli have something to do with Dragon's condition going into this match?
Eddie Guerrero and Chris Jericho defeated Juventud Guerrera and Chavo Guerrero Jr. when Jericho defeated Juvi when Juvi passed out in the Lion Tamer in 0:15:17.
Rating: *** 3/4
Juvi got KO'd by Eddie using the Cruiserweight Title.