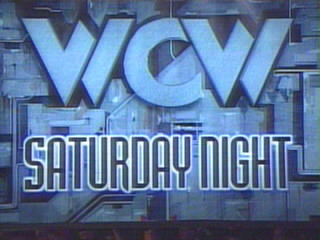 January 17, 1998
[Dark Match]
High Voltage (Kenny Kaos and Robbie Rage) defeated Los Villanos (Villano IV and Villano V) when Kaos pinned Villano V after the Power Surge in 0:07:27.
Rating: *** 1/4
The Destruction Crew come out and reveal Disco Inferno paid them off to attack Goldberg on Nitro.
Bill Goldberg pinned Mike Enos with the Jackhammer in 0:04:43.
Rating: ***
Spear, Jackhammer, splat. Goldberg goes to 22-0 and tells Wayne Bloom that he's next.
Psychosis and La Parka defeated Damien and Ciclope when Parka pinned Ciclope after a spinning backbreaker in 0:06:42.
Rating: ** 1/2
Chavo Guerrero Jr. pinned Prince Iaukea with the Tornado DDT in 0:06:08.
Rating: ** 1/2
The Windham Brothers (Barry Windham and Kendall Windham) and Public Enemy (Rocco Rock and Johnny Grunge) battled to a double countout in 0:11:29.
Rating: ** 1/2
The brawl between these two teams spilled outside the ring and never came back.
Fit Finlay pinned Brad Armstrong with the Tombstone Piledriver in 0:13:22.
Rating: *** 3/4
Yuji Nagata and Kaz Hayashi defeated Harlem Heat (Stevie Ray and Booker T) when Nagata pinned Booker with the Nagata Lock in 0:18:27.
Rating: ****
[Mortis interfered against Booker T.]
Wrath distracted the referee while Mortis cracked Booker in the head with his staff. The Nagata Lock was applied and the referee noticed Booker's shoulders were on the mat.
Chris Adams pinned Rick Martel with the Superkick in 0:13:20.
Rating: * 3/4
Konnan and Louie Spicolli come out for the main event. Konnan hits his catchphrases and talks trash about Ultimo Dragon. Spicolli says he wants to be a member of the nWo. Konnan says Spicolli can't get in on reputation alone so he has to earn his membership.
Konnan and Louie Spicolli defeated Dragon Kid and Ultimo Dragon when Spicolli pinned Dragon Kid with the Spicolli Driver in 0:10:10.
Rating: ** 3/4