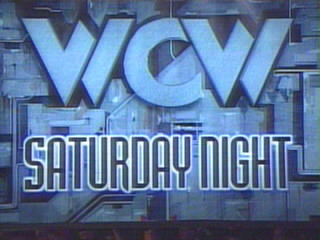 January 3, 1998
[Dark Match]
Ultimo Dragon defeated Sick Boy when Sick Boy passed out in the Dragon Sleeper in 0:13:09.
Rating: **** 1/4
[Lodi interfered against Ultimo Dragon.]
[Dark Match]
Lash LeRoux defeated Barry Darsow by countout in 0:05:34.
Rating: -* 1/2
Chavo Guerrero Jr., El Dandy and Lizmark Jr. defeated Ciclope, Damien and Silver King when Lizmark Jr. pinned Ciclope with the Springboard Moonsault in 0:21:04.
Rating: ****
Konnan defeated Dragon Kid when Dragon Kid passed out in the Tequila Sunrise in 0:08:30.
Rating: ****
Konnan wont release the hold after the bell rings which prompts Ultimo Dragon to run out and chase Konnan off. The announcers remind us that Dragon Kid is so named because his is Ultimo Dragon's protege.
Jim Duggan pinned Scott Putski after hitting him with a foreign object in 0:06:27.
Rating: DUD
Duggan hit Putski with the US flag he always carries to the ring.
High Voltage (Kenny Kaos and Robbie Rage) defeated The Windham Brothers (Barry Windham and Kendall Windham)
when Rage pinned Windham after a flying forearm in 0:01:48.
Rating: * 1/2
The announcers pointed out this was Barry's first match back with WCW.
Lex Luger made Vincent submit to the Torture Rack in 0:04:18.
Rating: 1/4*
Kaz Hayashi and Yuji Nagata defeated The Destruction Crew (Mike Enos and Wayne Bloom) when Kaz pinned Bloom with the Senton Bomb in 0:10:29.
Rating: ***
Chris Adams pinned Jerry Flynn with the Superkick in 0:15:03.
Rating: ** 3/4
The Steiner Brothers (Rick Steiner and Scott Steiner) defeated The Faces of Fear (Meng and The Barbarian) when R. Steiner pinned Barbarian with the Steiner Driver in 0:02:04.
Rating: -1/2*
(The Steiner Brothers retained the WCW World Tag Team Titles.)