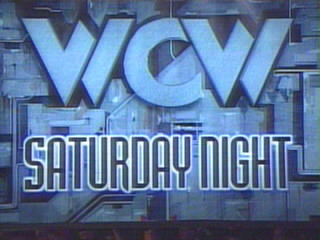 December 27, 1997
Konnan defeated Hector Garza when Hector Garza passed out in the Tequila Sunrise in 0:07:23.
Rating: ***
Table Match
Public Enemy (Rocco Rock and Johnny Grunge) defeated The Destruction Crew (Mike Enos and Wayne Bloom)
when Rocco Rock defeated Enos by putting him through a table in 0:11:32.
Rating: * 3/4
Juventud Guerrera pinned Ciclope with the Juvy Driver in 0:10:28.
Rating: *** 3/4
Fit Finlay pinned Mark Starr with the Tombstone Piledriver in 0:05:48.
Rating: ** 3/4
Chavo Guerrero Jr. pinned Damien after a small package in 0:01:07.
Rating: **
Sonny Onoo leads out Yuji Nagata...and Kaz Hayashi?! Onoo makes Kaz hold the ropes for him and Nagata. Onoo gets a mic and explains that even though Kaz is bad now, he has potential to be great in the future. Maybe almost as good as Nagata. Kaz has agreed to Onoo's managerial and training services. The announcers point out that Nagata and Hayashi can't speak or understand English; only Onoo can.
Kaz Hayashi and Yuji Nagata defeated The Armstrong Brothers (Scott Armstrong and Steve Armstrong)
when Nagata pinned Scott Armstrong after a side step in 0:08:09.
Rating: ** 1/2
Scott missed something off the top rope.
Chris Adams pinned Craig Pittman with the Superkick in 0:08:41.
Rating: * 3/4
This was a rematch from last week when Adams won by countout.
The Renegade and Glacier defeated Meng and Ernest Miller when Renegade defeated Miller via pinfall in 0:17:29.
Rating: -1/4*
[Hugh Morrus interfered against The Renegade.]
Renegade pinned Miller after an elbow. Hugh Morrus interefered unsuccessfully in the match. Afterwards, Jimmy Hart sent the rest of the First Family after Renegade. Renegade fights them off at first but gets overwhelmed by sheer numbers. But he manages to get ahold of the ropes and starts shaking them wildly. He shakes off the blows, hulks up, and levels Jerry Flynn and Hugh Morrus. Hart calls off his stable and shouts at Renegade that he'll get his revenge at Starrcade.