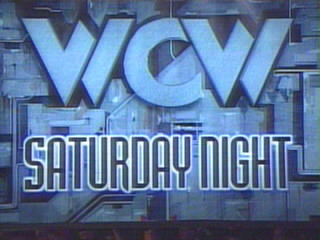 December 20, 1997
Rey Mysterio Jr. pinned Scott Putski with the Springboard Hurracanrana in 0:06:18.
Rating: ***
Chris Adams defeated Craig Pittman by countout in 0:15:38.
Rating: **
Adams and Pittman got into a brawl outside the ring and only Adams beat the count.
Vicious & Delicious (Buff Bagwell and Scott Norton) defeated
The Armstrong Brothers (Scott Armstrong and Steve Armstrong)
when Norton made Steve Armstrong submit to a Fujiwara armbar in 0:10:23.
Rating: ***
Promo is show with The Renegade. In between ranting nonsensically about something that sounds vaguely metaphysical, he also says Jimmy Hart can throw whatever wrestlers in his path but The Renegade will plow through all of them on his quest for vengeance. He wants Meng at Starrcade.
Meng pinned Luther Biggs after a gutwrench suplex in 0:09:28.
Rating: -* 1/4
Meng puts the Tongan Death Grip on Biggs.
Bill Goldberg pinned Mark Starr with the Jackhammer in 0:01:12.
Rating: **
Goldberg goes to 16-0.
Yuji Nagata pinned Kaz Hayashi after a lariat in 0:02:41.
Rating: * 1/2
After the match, Sonny Onoo (Nagata's manager) says something to Kaz in Japanese.
Ernest Miller and Alex Wright defeated Glacier and Brad Armstrong when Wright pinned Armstrong after an over-the-shoulder stomachbreaker in 0:10:05.
Rating: ** 1/2
The Renegade pinned The Barbarian with the Flying Splash in 0:15:29.
Rating: 3/4*