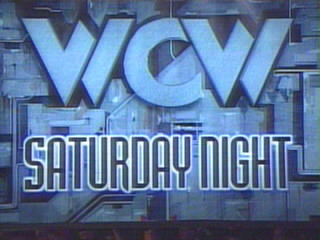 November 29, 1997
Super Calo and Silver King defeated Los Villanos (Villano IV and Villano V) when S. King pinned Villano V with the Airplane Spin in 0:11:13.
Rating: ***
Bill Goldberg pinned Kendall Windham with the Jackhammer in 0:05:39.
Rating: ***
The announcers note that Goldberg is now 12-0 since debuting a couple months ago.
Meng defeated The Renegade when The Renegade passed out in the Tongan Death Grip in 0:07:54.
Rating: -3/4*
[Jimmy Hart interfered against The Renegade]
During the match, Jimmy Hart got up on the ring apron to distract Renegade and got knocked to the floor as a result. This made Meng ANGRY! Even after the match ended, Meng kept the Tongan Death Grip before Hart and The Barbarian finally convinced him to let go. Renegade was left laying in the ring for several minutes and the announcers were worried about oxygen deprevation.
Public Enemy (Rocco Rock and Johnny Grunge) defeated Glacier and Ernest Miller when Rocco Rock pinned E. Miller with the Drive By in 0:06:13.
Rating: 1/4*
Glacier made a half-hearted effort to save Miller from being pinned. Afterwards, he got the mic and told Miller "Now you know what it's like when your tag partner is a little slow." (refering to events at World War III last weekend)
Ultimo Dragon defeated Damien by disqualification in 0:08:09.
Rating: ***
Damien felt the referee's count was too slow and delivered a shove which drew the DQ.
Mortis and Wrath defeated The Armstrong Brothers (Scott Armstrong and Steve Armstrong) when Mortis pinned Scott Armstrong with the DOA in 0:04:34.
Rating: ** 1/2
Eddie Guerrero pinned Lizmark Jr. with the Frog Splash in 0:17:33.
Rating: *** 3/4
(Eddie Guerrero retained the WCW Cruiserweight Title.)
Saturn made Norman Smiley submit to the Rings of Saturn in 0:13:19.
Rating: **** 1/4
(Saturn retained the WCW TV Title.)
The Flock was at ringside for this. Saturn had the match apparently won via pinfall, but Raven ordered him to pull Smiley up at the two count and apply the Rings of Saturn instead. Raven cut a promo while skulking in the corner of the ring stating "Chris Benoit: this could be you!" as Saturn continued to apply the move, drawing screams of pain from Smiley.